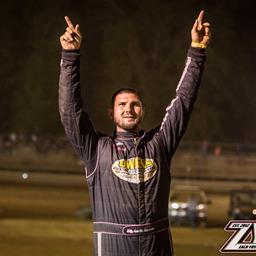 11/18/2023
Austin Holcombe
---
Holcombe wins Reutimann Memorial Prelim feature; deals with mechanical issues in main event
With heavy rainfall pushing the two-day weekend to a one-day event, Austin Holcombe rolled into Volusia Speedway Park (Barberville, Fla.) on Saturday afternoon for the Emil and Dale Reutimann Memorial.
With 49 Modifieds in the pit area, Holcombe stopped the clock third-fastest in his Flight which positioned him on the front row of the first preliminary feature. Benefiting from the race-long leader's misfortunate, Holcombe cruised to the victory after inheriting the lead on lap five.
For the $10,000 finale later in the evening, Austin started from the seventh-row and was running inside the Top-10 when mechanical issues forced him to call it a night early. He was scored 28th in the running order.
Full results from Saturday can be found at www.DIRTcar.com
Back to News